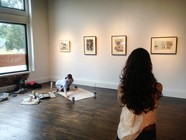 Elizabeth Snipes-Rochester is originally from Pickens, South Carolina. She attended the Governor's School of Art Summer program in 1998 and later attended Furman University, where she received her BA in Studio Art in 2003. She earned a Post-Baccalaureate Certificate in Painting from Studio Art Centers International in Florence, Italy, and earned her MFA from Clemson University in 2007 in painting. From 2008-2011, she taught as Assistant Professor of Art in the painting and drawing area at Missouri State University.

Since 2011, she has been a part of the Art Department at Lander University, where she teaches Painting, Drawing, and summer travel courses. Her primary interest is in figurative abstract painting, using oils and occasionally pastels on canvas or paper. She is currently exploring the relationships between figures and the specific spaces they create and inhabit. These most recent works (in progress) are inspired by her roles as an artist, teacher, and mother as well as the effects COVID-era home-life and contemporary interpersonal interactions. Snipes-Rochester lives in Greenwood, SC; her work is shown at Main & Maxwell in Greenwood, SC.

Snipes's work is currently available at Grant & Little, Atlanta @grantandlittle https://www.grantandlittle.com/.
Follow her current studio work in progress on Instagram at @studio.snipes.art and #studiosnipes